Cute Unicorn Letters to Print – Free Printable Alphabet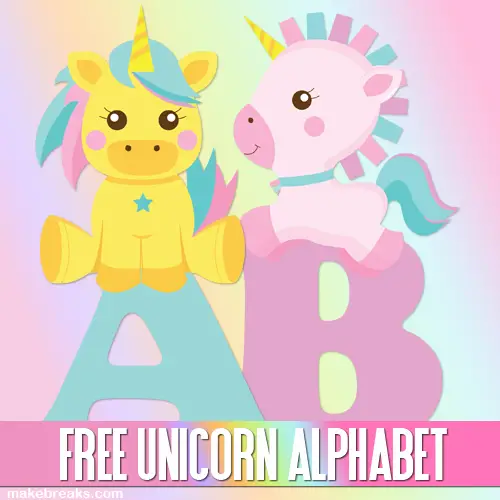 This is a set of printable letters feature a set of super-cute unicorns decorating the letters a – z. The cute pastel colors mean that this is a great set of letters for party decor and other decorations. These free printable unicorn letters are also great for unicorn themed classroom decor.
Unicorn Alphabet to Color
We have a black and white version of this alphabet here – Black and White Unicorn Alphabet to Color. This is the same set of letters and unicorns as in this set, but in a black and white version for coloring.
More Free Unicorn Printables HERE
The letters have a transparent background – perfect for adding some color and elegance to your projects! Use this set to create banners and bunting spelling out different words, or add the letters to the front of handmade cards or scrapbook pages to personalize them. All 26 letters are included individually as separate png files. These are combined into a single zip file.
These are large files – you will get great quality prints on letter/A4 paper.
Looking for more free printables? Be the first to know of new freebies and other fun things! SIGN UP HERE 🙂
Download Free Cute Unicorn Printable Letters
Unicorn Alphabet – Alphabet