With 2019 fast approaching, now is a great time to check out the many free printable 2019 calendars available to us. You will find there are a variety of free printable calendars to download in various styles. Some are ready just to print and go, whereas others give you some creative freedom to add your own decor or to color as coloring pages. The great thing about free printable calendars (other than the price 🙂 ) is they are instantly available and, of course, you can print one or more pages depending on your requirements.
Free Printable 2019 Calendars
So, without further ado, let's check out the very best free printable 2019 calendars available!
Free Coloring Calendar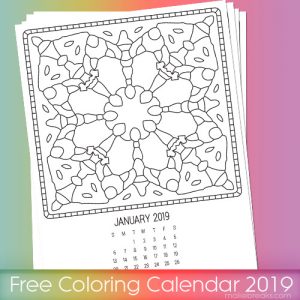 This free printable 2019 coloring calendar features a striking pattern to color for every month of the year. Print a single page or the whole year and color to create your own unique calendars.
Free 2019 Watercolor Effect Calendar from My Paper Printables

This free watercolor effect calendar will create a desk calendar which will print to create calendar cards at 5×7″ (greeting card size). This lovely design will complement any office or studio.
Free 2019 Floral Calendar to Print from Paper Trail Design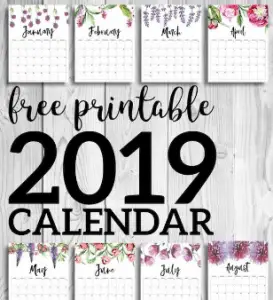 This floral calendar is free to download from Paper Trail Designs. The colorful flowers will make this a great calendar for any room.
Floral Planner Calendar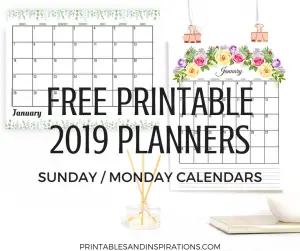 This lovely floral calendar from Printables and Inspirations is free to download. The large blank spaces in the calendar make this an ideal planner to help plan out your month.
Coloring Calendar & Planner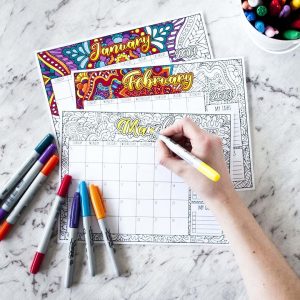 Here's a super free coloring 2019 calendar planner. Color in the background and use this to help exercise your creativity as well as keep organized throughout the year!
Elegant Grey and Flower Design Calendar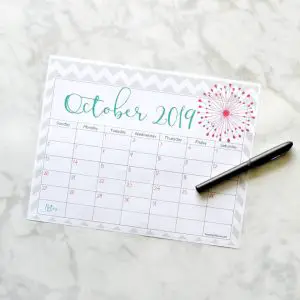 This stylish gray and flower design 2019 calendar is free to download. this will look great printed and hung on a wall or added to a planner.
Cute Sea Themed Calendar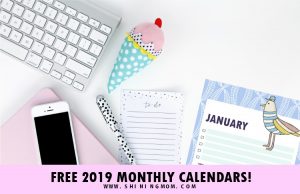 Here's a cute free 2019 calendar with a difference. The super cute sea theme will make this a great option for anyone who loves nautical (and cute) decor!
Botanical Flower Coloring Calendar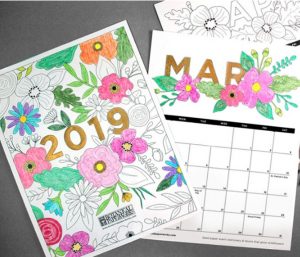 Here's another lovely coloring calendar with a botanical design. When colored, this will make a lovely gift for a botanical fan.
Minimalist Design 2019 Calendar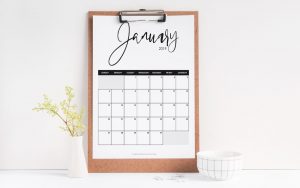 This elegant minimalist free printable 2019 calendar features each month headed with an attractive script font. This stylish calendar will look great in any office.
Free Harry Potter One Page 2019 Calendar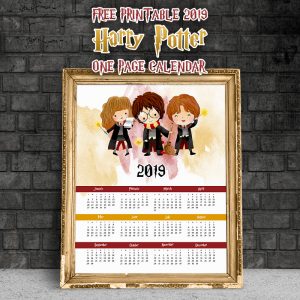 Here's something for Harry Potter fans! This cute Harry Potter free printable one-page calendar will be great for kids and adult Potter fans alike.
Watercolor Animal Calendar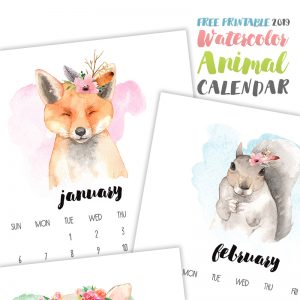 This lovely watercolor animal calendar is free to download. The cute watercolor animals make this a delightful calendar for any room and would also make a lovely planner page.
Plain DIY Calendar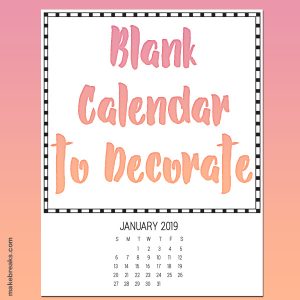 This blank DIY calendar is perfect for decorating with rubber staps, photos or just doodles! Each month is featured along with a blank space above, which is surrounded by a frame in which you can decorate.
We hope you have enjoyed this round up of free printable calendars. If you know of one we've missed, do send us a message and we'll be sure to add it 🙂